Level 4
Age 12+ Years Old
Level 4 introduces mobile app concept, development and intuitive visual programming environment with the MIT App Inventor, a blocks-based coding program that inspires intellectual & creative empowerment. It also exposes students to build communication apps and program advance robotic movements using gears, levers, claws and grips with LEGO Mindstorms for competition preparations. 
With mobile APP development in a visual block-based coding environment, it challenges kids to come up with their own storybook animation. It stretches their imagination and challenges them to integrate the programming with the sensors, circuits and motors that make the robots move! The outcomes are children well-prepared to face the digital future now and beyond.
Level 4: Digital Innovator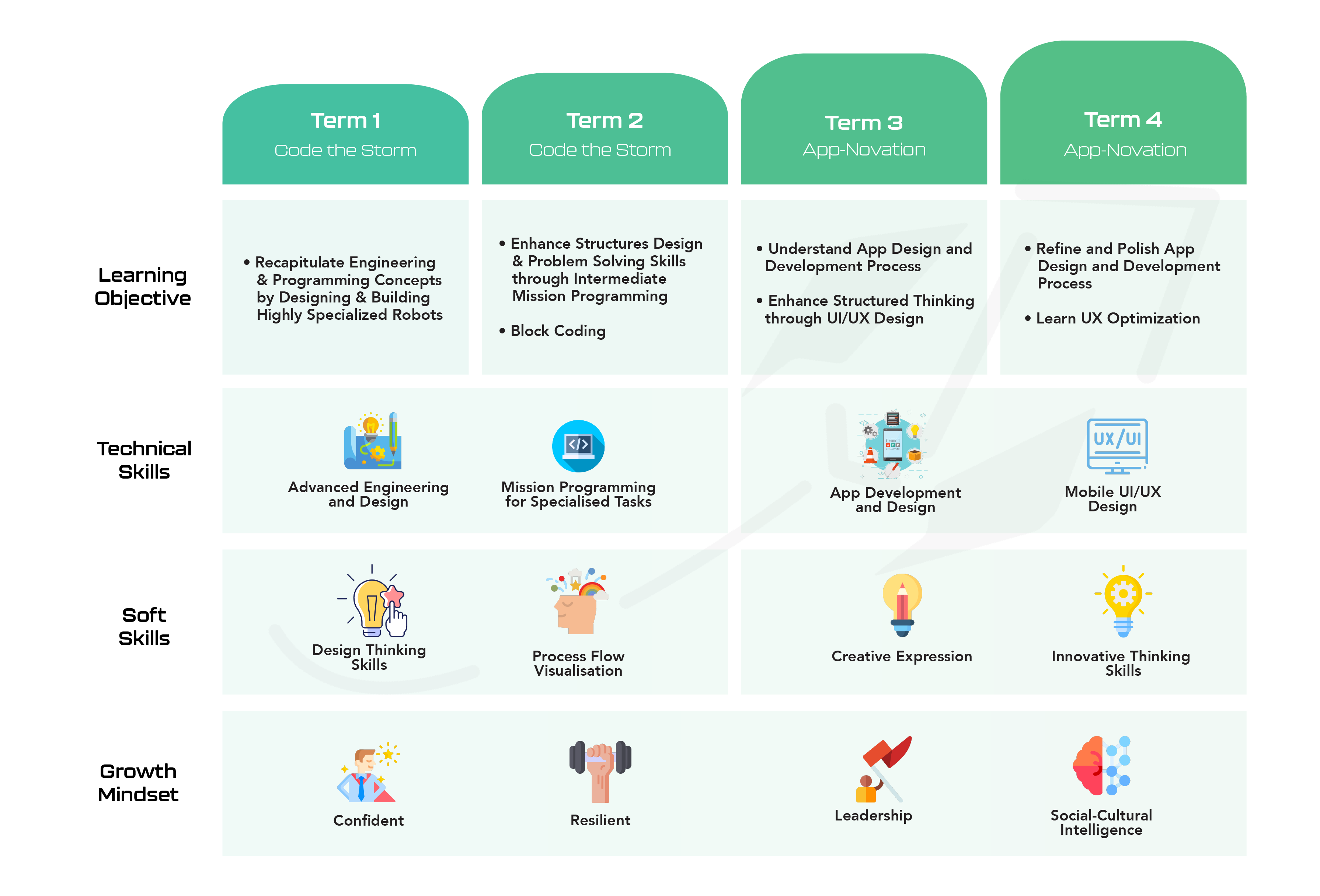 Programme Name
Level 4: Digital Innovator
Suggested Age
12+ Years Old
Programme Structure

Frequency: 1 Lesson per Week

1 Lesson =  1.5 Hours

1 Term =  12 Lessons (18 Hours)

1 Level = 4 Terms (72 Hours)

Slots

Every Weekday: Monday to Friday

14:00 – 15:30
15:30 – 17:00
17:00 – 18:30

Every Weekend: Saturday to Sunday

10:00 – 11:30
11:30 – 13:00
14:00 – 15:30
15:30 – 17:00

(Closed on public holidays, subject to special cases) 

Commitment

1 Term: 12 Lessons (Minimum)

1 Level: 4 Terms

Language
English
Location

1 Fusionopolis Way, #03-06 Fusionopolis One, Singapore 138632
Register Your Child's Interest Now!
Inquiry for the paid trial lessons or regular weekly programmes here.
Please note that slots are subject to availability.
Have Questions?
Don't hesitate to contact us!
Our team will get back to you as soon as possible!